Hello from Ireland!
I'm visiting my in-laws in my husband's hometown of Athy, Co. Kildare. Been poking through old graveyards, drinking Guinness (and Bulmer's!), listening to traditional Irish music at a Clancy's pub backroom session, and dodging rain. My vacation here is almost over, but I won't have much time to recuperate when I return, because I've got a very busy month ahead of me!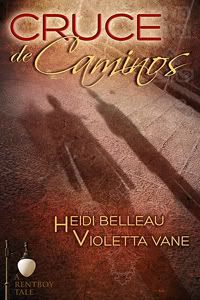 Addiction drives Sean O'Hara to a critical crossroads. Will he make the right decision, or will the floodwaters bound for New Orleans sweep him away?
First up, my erotic horror "
Cruce de Caminos
", written with Violetta Vane, comes out from Riptide Publishing on
May 21s
t as a part of their Riptide Rentboys line of stories. However, it's already available for pre-orders, and if you buy it any time before the 21st you get to read it
May 19th
AND you get entered in Riptide's
Free Books for a Year
drawing. You can also buy the
whole collection of stories
and starting May 7th get each of the four e-books on their individual release days at a
20% discount
! That's a story a week for the entire month of May for less than twelve dollars!
Secondly, I'm sad to say that
Like It Or Not
, Storm Moon Press's non-con anthology that includes our stolen-by-the-fairies short "Salting the Earth", has had its release delayed. It will now come out
June 1st
. You can still pre-order it, and hopefully as the month goes on I'll be able to give you a few delicious teasers of this incredibly decadent, unapologetically hedonistic, exceptionally perverted story.
And that's it for May, but keep an eye out in June for "Salting the Earth", our free historical short "The War at the End of the World" written for the Goodreads M/M group's
Love is Always Write
event anthology, and last but not least our debut novel-length work: the super romantic ghost story
Hawaiian Gothic
, which comes out from Loose Id on June 12th.